reviews
At SLG Property it is important for us to provide you with the best possible service. Whatever you are looking for, we shall do our very best to find your Dream House on the Costa del Sol. In the past years we have received a lot of recommendations. Below you can find some reviews of a couple of satisfied clients.
Should you have any questions or want to receive information about properties, feel free to contact us.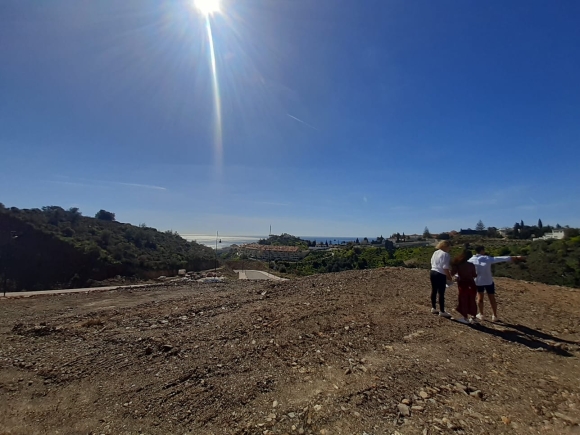 Cecilia kiest voor Lomas Higueron
Vooruitlopend op het bezoek had Ron ons goed voorbereid met de vele mails met brochures en beschrijvingen. Omdat we maar beperkt tijd hadden voor een onsite visit heeft Ron een goede voorselectie gedaan op basis van onze wensen waardoor we het maximale uit ons bezoek konden halen. Er was tijdens die 1,5 dag dat we samen waren ook ruimte voor improvisatie en ad hoc bezoeken. Dit alles heeft geleid tot de aankoop van een appartement met zeezicht in Lomas 5 Higueron. Het is ongelooflijk snel gegaan omdat het goed voelde, Ron gaf zijn eerlijke en vrijblijvende adviezen en tegelijkertijd ook ruimte om goed na te denken. We hebben het proces als zeer prettig ervaren en Ron's deskundigheid was daarbij onmisbaar. We moeten wel zo'n twee jaar wachten tot de oplevering maar dat is een heel mooi vooruitzicht!
Dank, Ron, tot de volgende!
Cecilia (maart 2023)

Best Wishes!
Team SLG wishes you sparkling holidays and a warm 2023!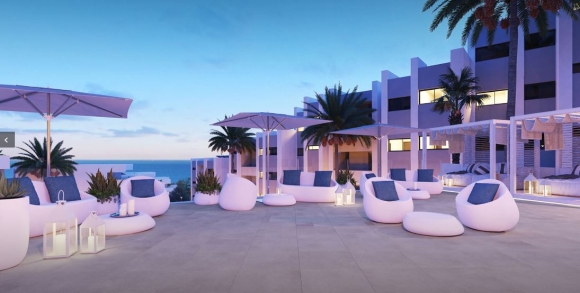 Luc & Carine kozen voor Pure South
Na veel telefoontjes en e-mails met Yolanda, die ongelooflijk veel geduld heeft en ons alle mogelijke informatie bezorgde (foto's, beschrijvingen, prijzen, ...), en altijd zeer professioneel werkt en heel snel antwoordt op je vragen, hebben we besloten eens te gaan kijken naar de Costa del Sol. Daar kregen we begeleiding van Richard, die ons op een joviale, ontspannende en professionele wijze wegwijs hielp bij onze zoektocht.
Ook de contacten en afhandeling bij de nederlangstalige advocaat en vervolgens ook de notaris, verliepen zeer vlot. Dus zijn we dan ook overgegaaan tot de aankoop van een nieuwbouw appartement dat helemaal ons ding is. SLG Properties was voor ons de ideale partner tijdens dit project. Met bijzondere dank aan Yolanda en Richard !
Vriendelijke groetjes,
Luc en Carine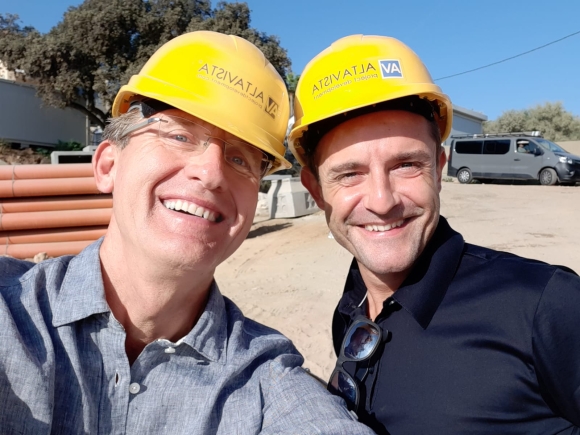 Newbuild hunting in Marbella with Ron
House hunting in Marbella - Looking for the best New Build appartments in the Marbella region.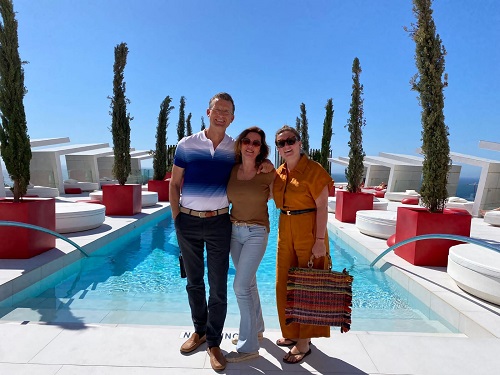 House hunting in Marbella - Willeke & Jasmijn with Ron of SLG
House hunting in the Marbella area. Willeke & daughter Jasmijn were guided by Ron de Vries in there house hunt for the perfect apartment in the Marbella region.
Real Estate broker Ron of SLG surprised us with a new view on the Marbella region. Ron is perfect as a person and as a advisor TOP! regards Willeke & Jasmijn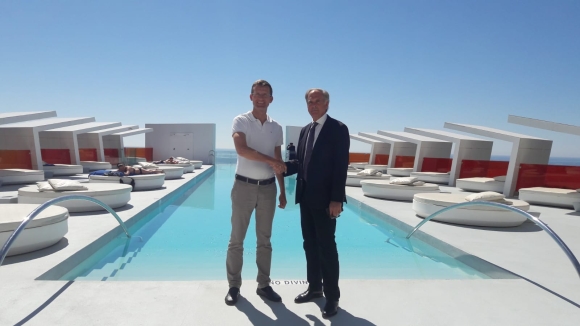 Ron de Vries and Richard Jackson CEO of Urbania's Residential Resorts
Ron de Vries owner of the SLG Property group with Richard Jackson CEO of Urbania's Residential Resorts. Urbania develops exclusive resorts like Higueron West, Lomas de Higueron and Hilton Curio Benalmadena.
Eco friendly, contemporary, high spec development will consist of thousands apartments, villas and commercial establishments. The largest consolidated Residential Resort developments on the Costa del Sol from Marbella to Malaga. All with spectacular breathtaking views over the Mediterranean Sea and plenty of green areas and space to walk and enjoy the great outdoors.
The SLG Property Group is the official agent for the sale of the luxury Urbania resorts.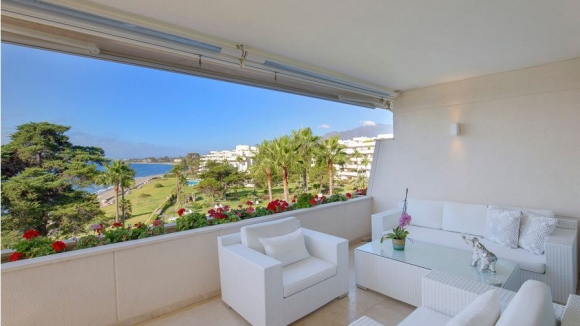 Mission accomplished thanks to Ron from SLG Property
After years of dreaming and philosophizing we finally decided last summer to buy an apartment on the Costa del Sol. We didn't know exactly where and how. But somewhere between Malaga and Estepona and with a sea view. That was for sure. In our search Ron took us to a large number of properties in a very professional and calm way. Directly on the sea but also in the mountains with sea views. A diverse palette of possibilities and all beautiful apartments. In September, we visited many different properties in four days. In the end, we did not succeed. Despite all our efforts and beautiful apartments. But our image of what we did and did not want had become a lot sharper. After returning to the Netherlands, we reviewed our wishes and requirements and based on our "hard" requirements, Ron made a new selection of apartments. After that it went fast. When we visited in November, we were lucky on the first day. We managed to buy a beautiful apartment by the sea. Exactly what we wanted and what attracted us enormously. This was possible thanks to Ron's patience, good listening and understanding of what we want but also thanks to his unbridled commitment. Also in the whole process before and after the purchase of the house, Ron is always willing and available for advice and assistance. And that in an extremely sympathetic and friendly way. For us, Ron was the ideal intermediary to go looking for a property in a country where we did not know our way around. So thanks again Ron for all the help and patience you had in helping us to find a home. Our mission is very successful!
Michaël and Joan Munnich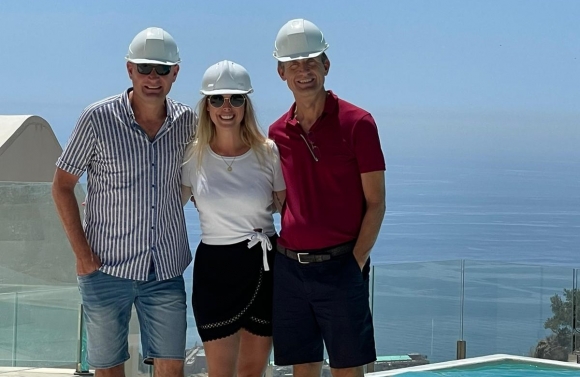 House hunting with Ron from SLG
House hunting with Ron de Vries of SLG Property. Eventually it became the beautiful new construction project Higueron West.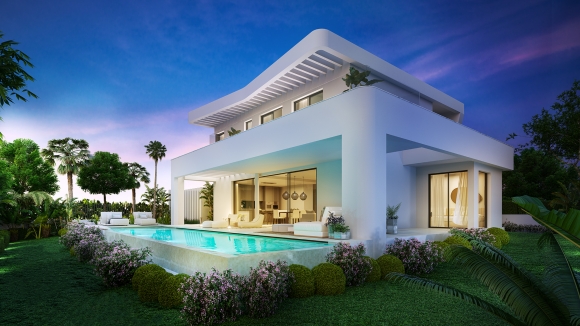 Good, reliable real estate agent
Costa Del Sol is a good place for a nice holiday home/apartment. But make sure you use a good, reliable real estate agent. One who knows the area and knows what is involved, if you buy a house in Spain.
We have found in Ron de Vries that calm, reliable broker! He has guided us very well during this process.
Family Burgers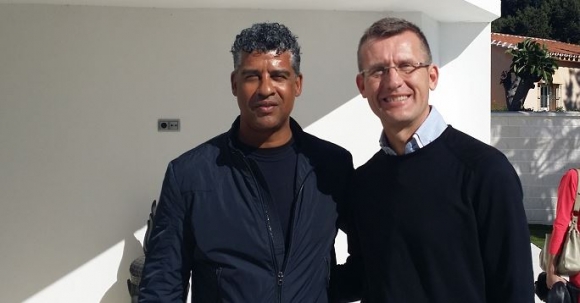 Frank Rijkaard
A familiar face:
Frank Rijkaard with Ron de Vries.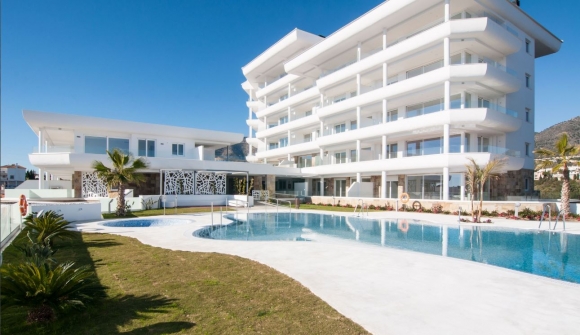 Monte Paraiso residence
We bought an apartment in the Monte Paraiso residence in Fuengirola via SLG Property.

Richard from SLG Property helped us very much. We looked at several properties, both new and existing.

We finally chose this new build complex because of its location, excellent price for what it offers such as quality and facilities. Moreover, it appears from the value development upon completion that the apartment has increased in price.
But we are not selling - we are going to enjoy it together.
Peter & Monique - Eindhoven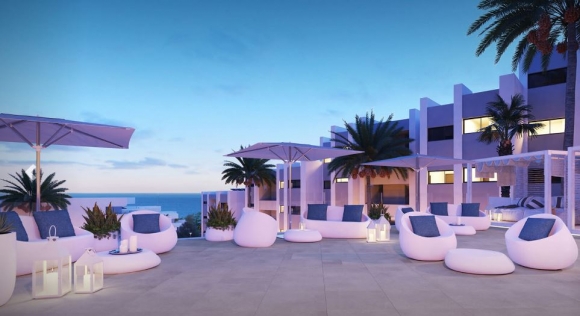 With a special thanks to Yolanda and Richard!
After many phone calls and e-mails with Yolanda, who is incredibly patient and provided us with all possible information (photos, floor plans, descriptions, purchase prices, ...), and always works very professionally and answers your questions very quickly, we decided to go and have a look at the Costa del Sol. There we were guided by Richard, who in a jovial, relaxed and professional manner helped us in our search.
Also the contacts and the settlement with the Dutch lawyer and subsequently the notary went very smoothly. So we proceeded to the purchase of a beautiful newly built apartment that completely fits our wishes.
SLG Property S.L. was for us the ideal partner during this project.
Special thanks to Yolanda and Richard!
Kind regards,
Luc and Carine - Belgium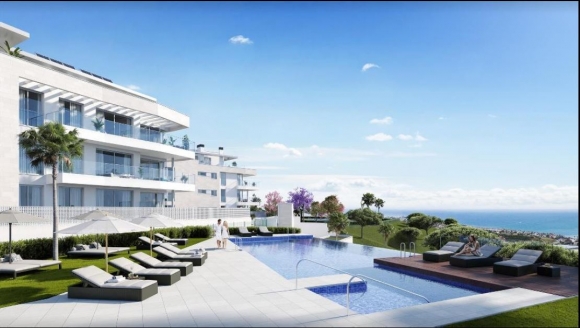 Well advised
We, Hanneke Comans-Diesfeldt and Marc Comans, want to thank Yolanda of SLG Property for the effort and guidance in purchasing the apartment in the project Celere Vitta Nature in Mijas.
In our search for a suitable apartment on the Costa del Sol, Yolanda has advised us well and finally recommended an apartment that suits us exactly. Your clear explanation of the procedures and formalities when buying property in Spain was also very nice, as was your presence during the meeting with Celere Vitta Nature.
It feels good and familiar to have a real estate agent at our side who is an expert and very well versed in the Spanish real estate market, as well as with regard to all kinds of practical matters.
Hanneke Comans-Diesfeldt and Marc Comans

Warmly recommend Ron
We have been assisted by Ron de Vries of SLG Property with the purchase of an apartment on the Costa del Sol in the spring of 2021. He went out for 2 days with us to look at all kinds of properties. As our wishes became clearer, he adjusted the apartments to be visited. This gave us in a short time a very good picture of the possibilities, so we could make an informed decision.
We can highly recommend Ron to people who are looking for a reliable, flexible, service-oriented and knowledgeable real estate agent! He listens carefully to the wishes of the buyer and knows the real estate market on the Costa del Sol like the back of his hand. That's why he makes sure that you end up with your dream home.
Fenny & Carolina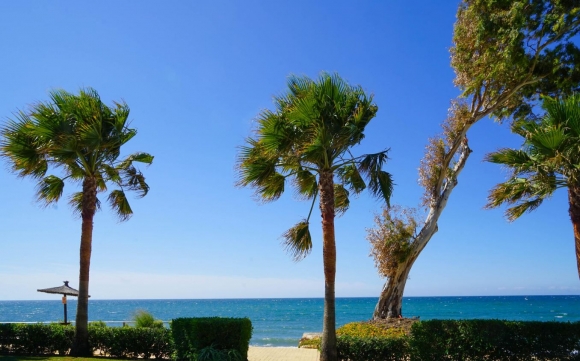 Capable and friendly real estate agent
Via our brother/ brother-in-law we ended up with Ron de Vries of SLG. After viewing a number of properties we bought a first-line beach apartment in Estepona.
In our bedroom we hear the rustling of the sea, we walk via the boulevard, in fifteen minutes to the centre of Estepona. Delightful!
Ron de Vries of SLG Property is a capable and friendly real estate agent who takes time for you.
Petra & Bert - Eindhoven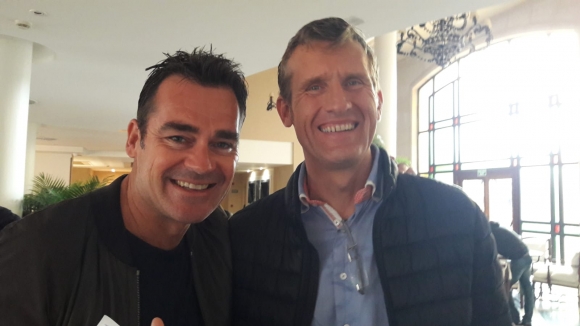 Jeroen van der Boom
A familiar face from the Netherlands -
Jeroen van der Boom.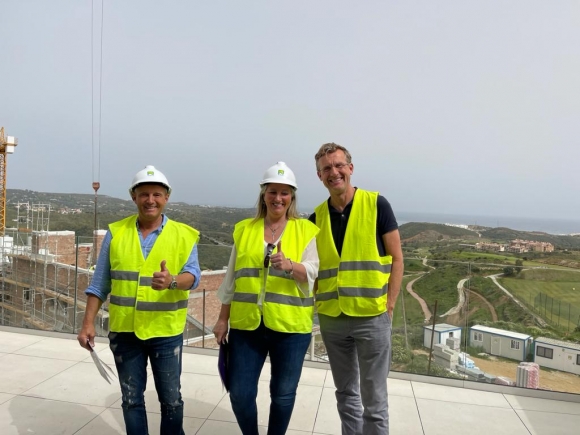 Thumbs up
Thumbs up for SLG Property!
Frank & Carolien (Belgium).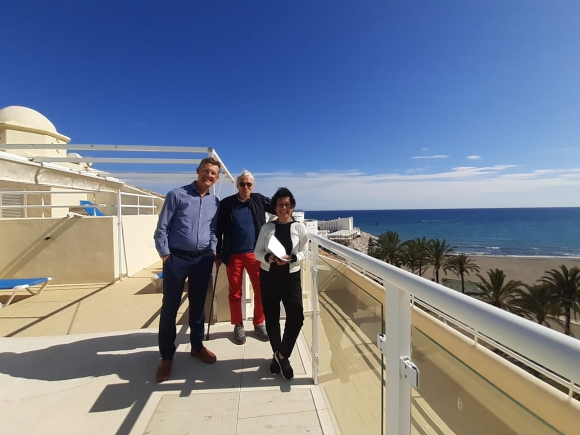 Very patient and tireless
Via Google, we chose Mr. Ron de Vries, a Dutch real estate agent, from SLG Property. Way before our trip Ron did a lot of preliminary work to be able to make a targeted selection for us to view projects in our chosen area.
In a foreign country it is very important to get good advice on legal matters, for which Ron was also very helpful.
Ron took us on a three-day tour. He showed us projects and the area and the possibilities that are available. It were fine, interesting and informative days.
The result was the purchase of a new penthouse.
Our experience with Ron is very positive. He has 20 years experience in this area, is very patient and tireless, knowledgeable and has a good vision of how the housing market in Spain develops. He also has a wide network. We were also very surprised that we could make the decision to buy the penthouse in such a short time. We were also able to complete the formalities in the week we were in Malaga.
We can warmly recommend Ron for those who are looking for a beautiful property in the south of Spain.
Henk and Adeline Schiphuis
We are possibly available on our phone number [because of privacy to be requested via SLG Property].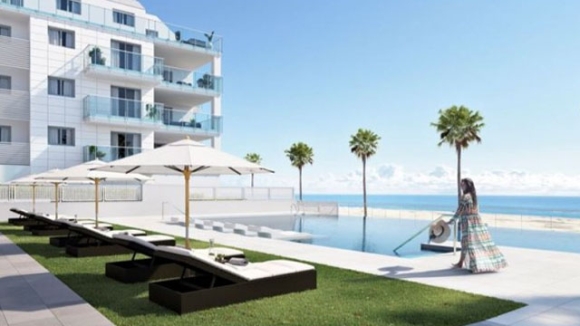 Very satisfied with our choice and your service
We wish to thank you for your help and perseverance!
It eventually became the last development that you chose for us.
We are very satisfied with our choice and your service.
Fantastic!
Greetings Sven & Cindy Legein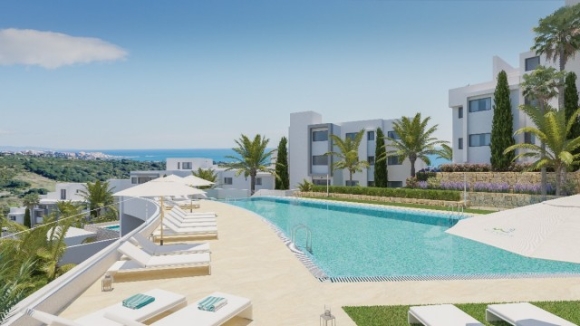 Trouble-free
Nicole and I fell in love with Andalusia during different trips. Both the coastal and inlands, every bend again a beautiful view and what to expect when visiting Estepona: it is simply fantastic. The atmosphere that Andalusia breathes gives us a very nice feeling. Here we would like to stay longer ... but how do you start?
On a regular basis we watched on television and internet the possibilities to buy something in the Estepona area. Estepona lies between the sea and the Sierra Bermeja, which turns beautifully red in the evening and morning light. You have a magnificent view of this mountain just up from the coast west of Estepona towards Casares and surroundings. We decided we wanted to find something in this area, a quiet place to which you have been after a day or longer to go back to and then with a nice book, drink on your terrace with beautiful views of nature, a splash in the pool and relax with a nice snack.
There is an extremely wide range of existing homes in Andalusia, something for everyone and at any price. We were also curious about the possibilities of new construction, but how do you achieve this from a distance. On the internet we encountered new developments and projects that appealed to us and then it really starts to itch. But please note that the offer that has been sold in the meantime will stay on internet sites for years without being removed after sales. We came to the conclusion that there is only one good way and that is traveling to see what the effective offer is. And you can not do that alone.
Last January [2018] we decided to visit the Spain Expo Fair in Waregem [Belgium]. This is the real estate fair in Belgium and the Netherlands for those who want to buy in Spain. We visited several exhibitors, real estate agents with knowledge of the Spanish property market that try to give us as much information as possible. We also met Ron de Vries from SLG Property at the exhibition stand and had a sympathetic informal conversation about our wishes and which paths you can walk in the run-up to the purchase of real estate in Spain. They also know the right people to legally assist you in your own language in Spain to ensure that the purchase process runs smoothly.
Coming back home, we were excited. We thought: if we can travel to Málaga to look to the project then we have the first option, don't we? In October [2017] I also found information about the Project Mirador de Estepona Golf. This project was in the perfect environment for us. Coincidentally, this Project went on sale on 15/01/2018. During our Expo exhibition we visited we had several conversations and the next day I got an email from Ron de Vries with an overview of 7 new construction projects in the area of ​​Estepona, based on our wished. Next to that, he told us that if we were interested, we could stay in the area without obligation for a 2 day-visit.
The procedure went fast. We emailed 4 days over and over again and finally we ended up with 12 projects to be seen in 2 days. We booked the flight to Malaga after receiving the first email from Ron de Vries and visited the next day with colleague Willem Bruins several projects in the area of ​​Estepona. What was so nice about this, Willem and Ron listened to you, you visited various projects that were actually based to your interests. After the various oooh and aaaah's during the planned visits, you will eventually fully realize what project is best for you and this is made possible by the relaxed / quiet way in which both brokers guide you in this without any form of intrusiveness.
Shortly, after the trip we signed a contract for the new development, and we just received the message that the building permit was delivered by the municipality of Estepona and in September they start the construction works. Completion is expected in early 2020. We are only satisfied with the process that we have chosen for our acquisition of real estate in Spain.
Joris & Nicole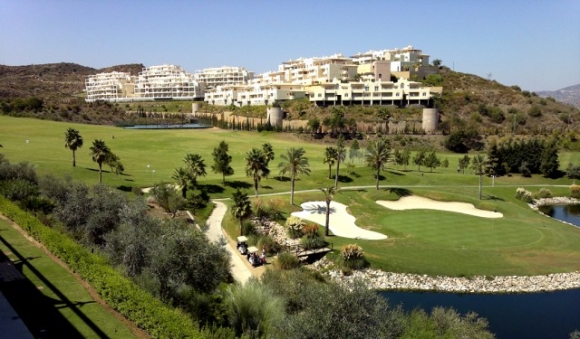 Honest advice
SLG Property has pulled everything from our acquaintance to find the best fitting apartment for us.
They give honest advice and did not just manage and supervised the process up to and including the transfer, but also provided advice to our newcomers afterwards. We warmly recommend SLG for the purchase of your Spanish stay!
Greeting from Pieter and Emmy Terpstra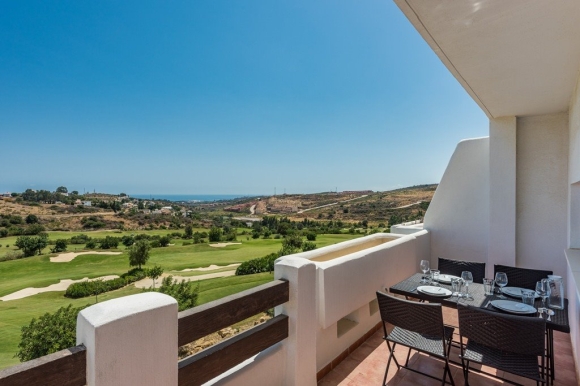 Very enthusiastic about our purchase
In July 2016 we traveled for a week to the Costa del Sol to join Richard Jansen from SLG. Beforehand, we had made a selection on the SLG website of about 10 urbanisations that we wanted to visit. Eventually we visited 8 and we bought an apartment in Estepona.
A year and a half later, we are still very enthusiastic about our purchase. What is especially striking is the excellent after sales service of Richard. We called him a few times and he always helped us. A nice experience for us.
Zeger and Sofie Collier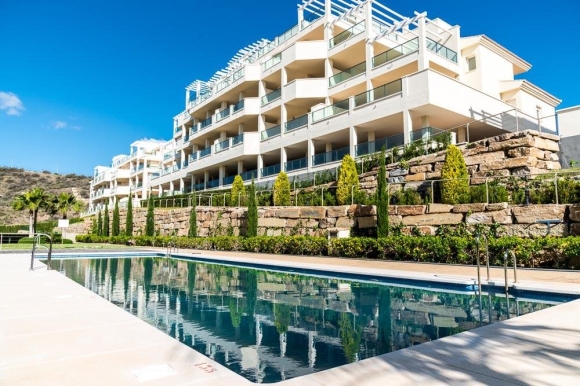 Super enthusiastic and friendly
I contacted the website of SLG Property in 2016 because my mother wanted to buy an apartment on the Costa del Sol.
Then we made an appointment with Ron de Vries, but when we arrived there we found out that we had an appointment with Richard. From the first moment we had confidence in Richard.
Knew what we wanted and was super enthusiastic and friendly! In 2 days time have already decided what we wanted to buy, my mom's big dream, an apartment in Spain.
Even afterwards, Richard helped us with everything (furniture, furnishing, car etc ...). Definitely recommended to buy an apartment or house with him, TOP service from start to finish and even far afterwards.
Barbara Hautman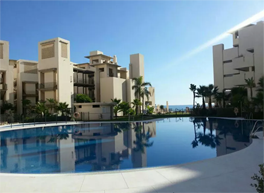 Highly recommended
Very helpful with the after sales service. You can always count on SLG and Ron de Vries and nothing is too much for him. Always looking for the right solution.
Has helped us tremendously, and still. An absolute recommend!
We are very satisfied with our purchase, it is very quiet over here, we have a fantastic view of the sea and the mountains, and 5 km from the beach and the city.
A nice well-kept garden and swimming pool. A good base for trips and excursions.
Eric and MJ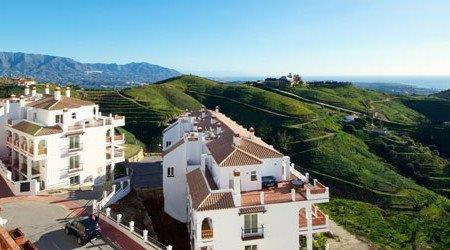 This is what it is going to be
After we decided to buy an apartment in the Costa del Sol because of the beautiful highlands and the many golf courses, we contacted SLG Property. On the site we selected 10 apartments that we wanted to view and visit. We were really helped by Ron de Vries and one of the employees.
After having looked at 3 apartments, you said: "Let us stop for a moment, as we now know your requirement. We have a beautiful apartment that fits all these requirements."
Upon arrival and immediately after the viewing we said: "this is going to be." The apartment was a model home and the location was on a mountain with beautiful sea views.
Also during the further processing with the Law Firm and the Notary, SLG Property helped us in a nice way.
If we ever find something else in the Costa del Sol, which is not the case now, we will not hesitate to contact you again.
Our warm regards,
Margo and Aad van der Weijde

Very satisfied
We are very satisfied with Ron de Vries because of the following:
he has a very extensive portfolio of the Costa del sol
very active and meets appointments
has patience with critical customers
offers plenty of help and advice, which has nothing to do with each other
Greeting from satisfied customers Margareth and René Goossens